Exploring new Continents… ongoing… (Beech wood, 2001)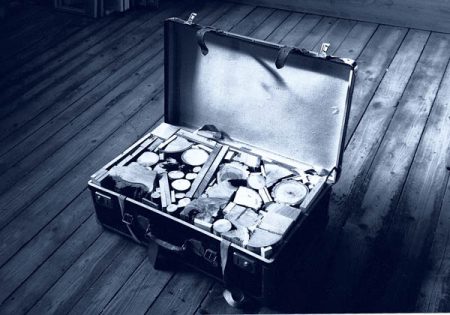 On the road with wood, Performances, 1982 et seq.
Studio in Schlosswil, Berne, Switzerland
Publication *Momentum*, Kunsthalle Wiesbaden, Germany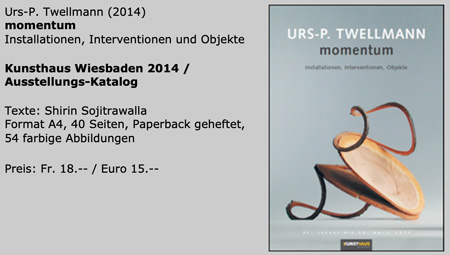 Wood and Charcoal Wood is in the center of my artistical research – therefore fire and charcoal are an obvious subject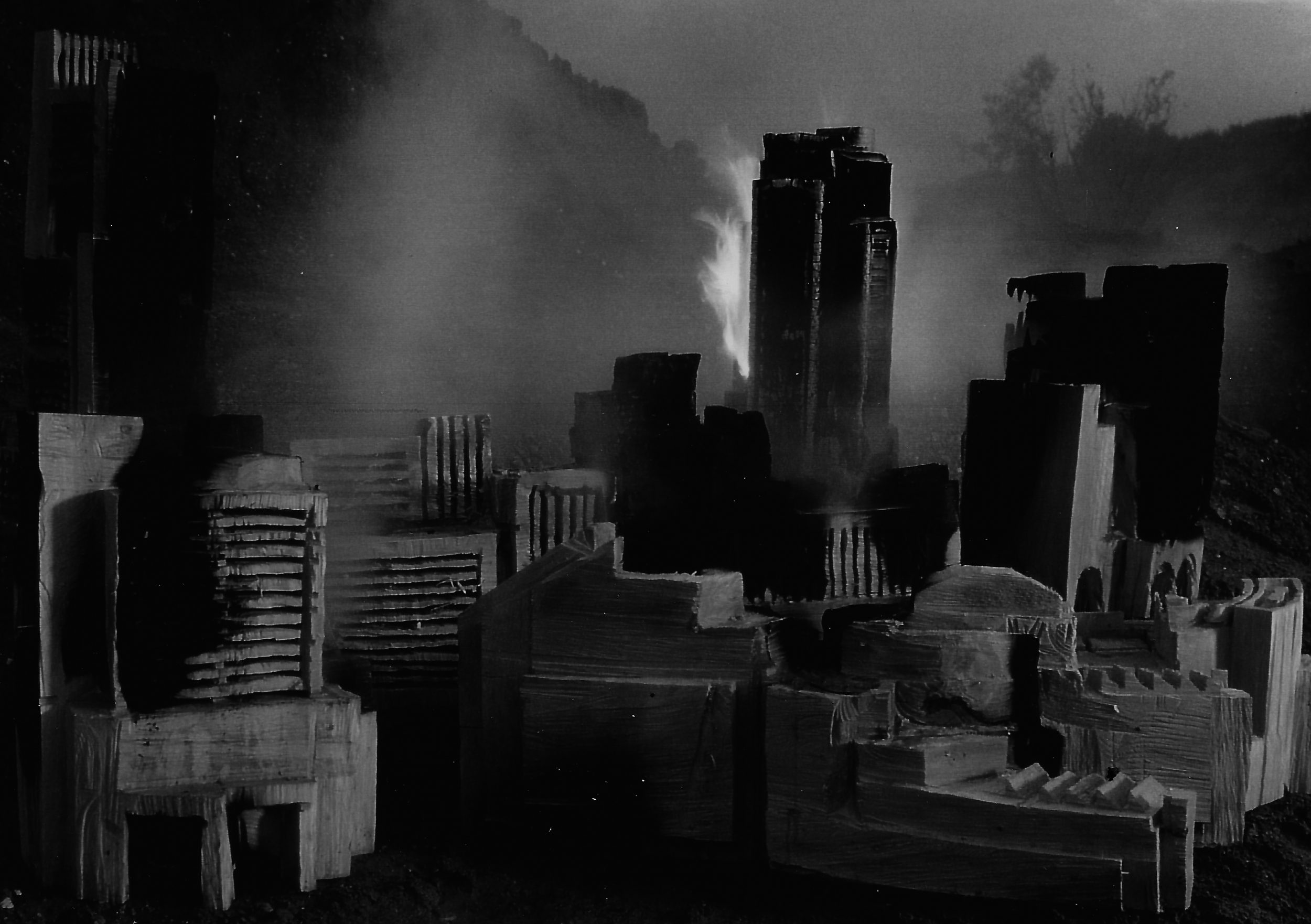 "Downtown Inferno", Limetree, 1999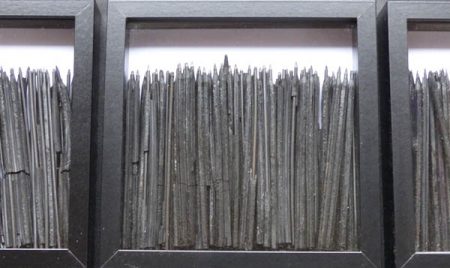 "Caran d'Ache", Boxes of coloring pencils, Raiffeisenbank Kiesental, 2013
Work Stay in Genua Projects and Exhibition around number Pi = 3.14159265359….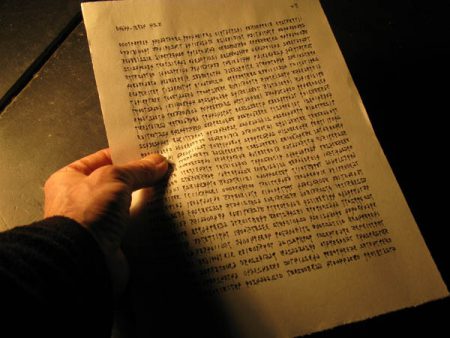 Pi – from the left and backwards – Page 24 (Decimal places 42'781 to 44'640)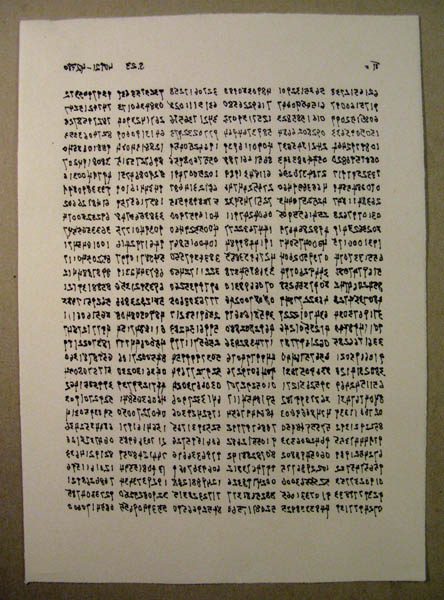 Pi – From the left and backwards – Page 23  (Decimal places 40'921 to 42'780)
Publication *Forstrevier 3*   Kunstraum Dornbirn, Austria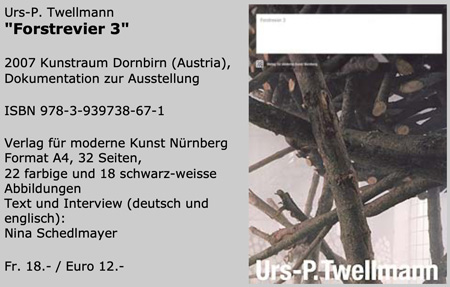 Work Stay in Beijing, China Publication "Have a Seat, please":Observations at Beijing Construction Sites: Installations and Interventions at Platform China, 798 Project Space, Dashanzi Art District, Beijing
                                 "eleven chairs", Beijing, 2006
Show of the Body of Work – Château Kiesen, CH-Kiesen Monographical Publication: Book: *Working with Wood*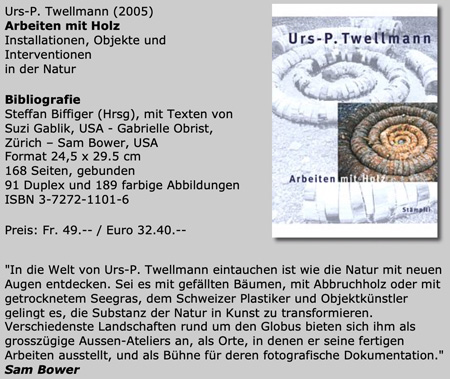 Publication *50 Miniatures* small objects carried out with the chain saw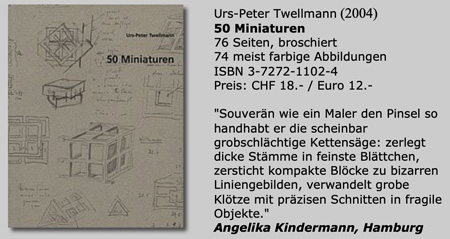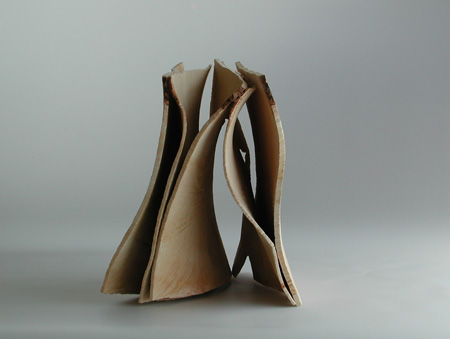 "still connected", Limetree, 2004
Publication of *Travel Diary*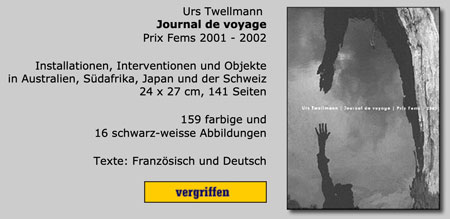 First Lettering-Imagery in the open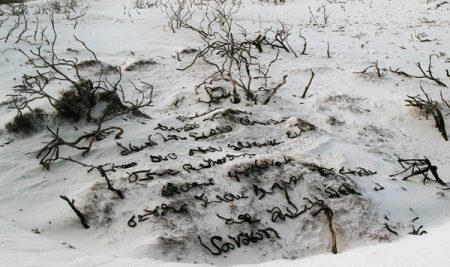 "Letters from Afar", Cape of Good Hope, South Africa, 2001
Exhibitions and Land Art Projects in Australia, South Africa and Japan
Prix Fems – Grant by the Edouard & Maurice Sandoz Foundation, CH-Lausanne
On the Road – Land Art projects and Exhibitions in Canada and the USA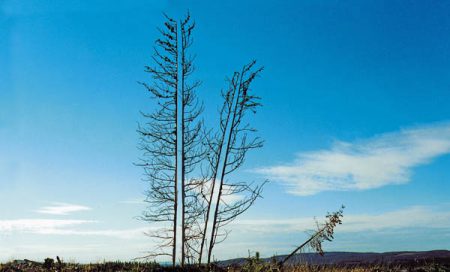 "opened Lodgepole-Pines", Okanagen Mountain,Canada, 2000
First large Tree Trunk Archives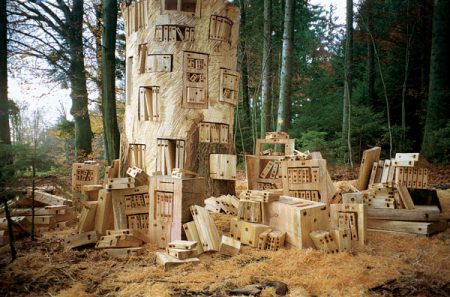 "Site of Crime Grauholz – Opening up the Archives", Sculpture Trail Grauholz, 1998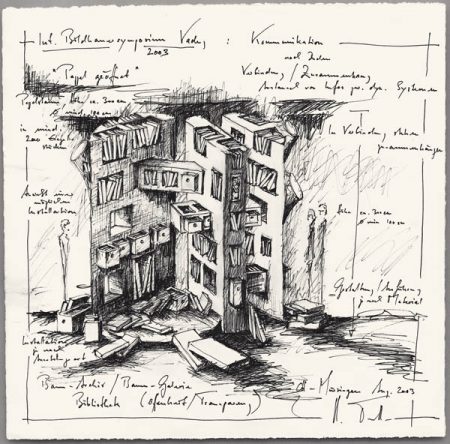 Sketch for the Tree Trunk Archive, 1998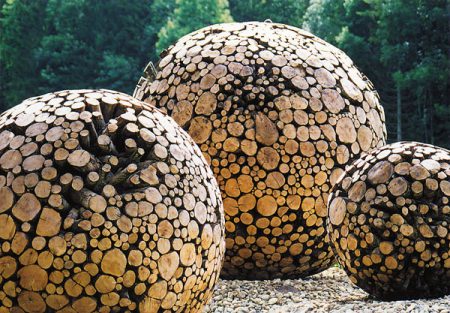 Alder-Spheres, CH-Schangnau, 1996
Blood-red (Ferritin 3.0 / Hemoglobin 7.0 – Remains on canvas)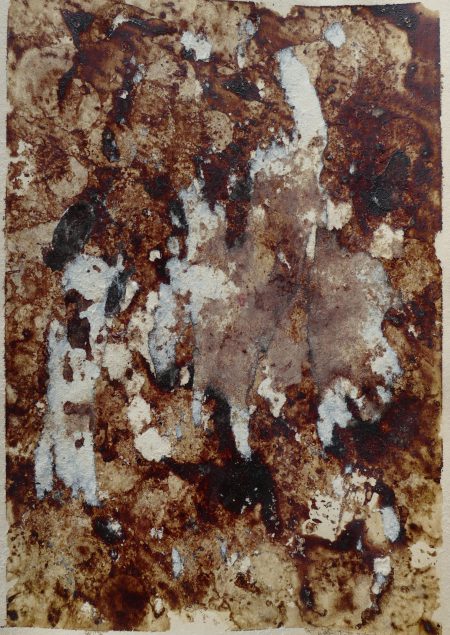 Blood-red on canvas, 1995
lefthanded – the left hand is consciously and equally included in artistic expression – Separation of lettering and drawing is nullified
Studio in Münsingen, Bern, Switzerland
Study Visit in New York (Art Students League / Manhatten Graphic Center)
Times Square, New York, 1992
Publication - Book "Portraying the Emmental" (Sketches and Woodcuts from the Emmental)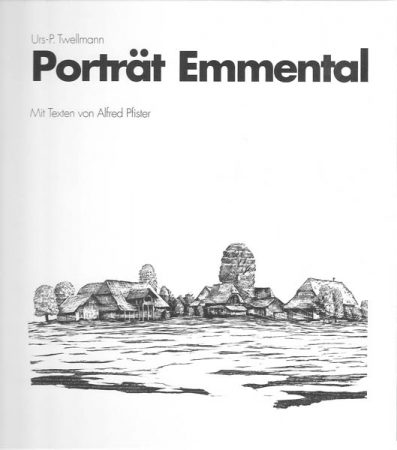 "Bookcover of "Portraying the Emmental", 1991
Studio at the old spa hotel Rüttihubelbad, Walkringen, Switzerland Sketches and Drawings to the theme «the world is round» as well as enlarging perspective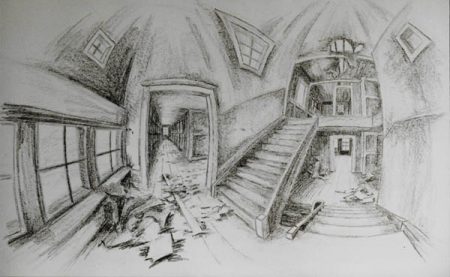 Panorama View Sketch, Spa Hotel Rüttihubelbad, 1989
Landscapes, ambient conditions, sculptures, objects and interventions are equally incorporated within the present situation and the living moment and fleeing moments are photographically documented
Intermittently working as course instructor in further training for teachers and providers for creative holidays
First big tree trunk sculptures - outset of working with the chain saw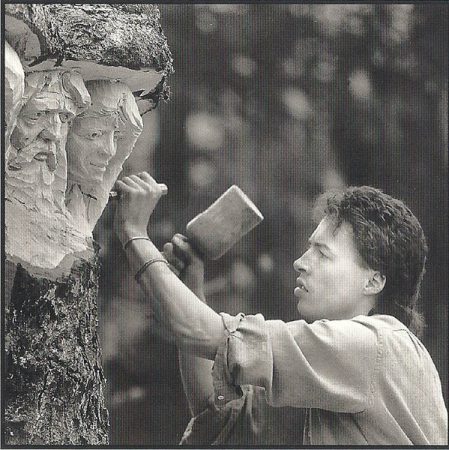 Work in Progress
Studio in Lützelflüh, Emmental Turning to woodcuts (including experiences in all other print techniques)
| | | |
| --- | --- | --- |
| | | |
| Fankhus, Thalgraben (Studio 1982-1988) | | I and the world, woodcut 1982 |
Sketching replaces photography – all of the outdoors becomes my studio.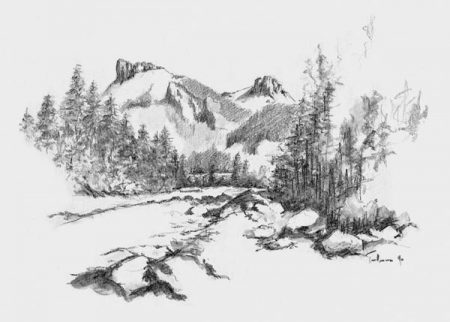 "Schybegütsch and Böli",  Schönisey, Kemmeriboden-Bad, litographic chalk
School of Arts, Berne, Switzerland(various modules in graphic art design and as auto didactical sculptor)
my own black and white photographic laboratory – experimental photography – photographic art designIndoor situations as well as landscapes are arranged and changed (first land art interventions)
| | | |
| --- | --- | --- |
| | | |
| Our Earth, photographic art design 1980 | | "open landscape - closed door", photographic art design 1980 |
Inspired and impressed by modern architecture and fascinated by the art of the surrealists like Dali, Magritte and M.C. Escher and especially by the drawings, woodcuts and etchings of Gustave Doré I dreamed to become an artist or architect myself.
Born and raised in Langnau (Emmental) and Konolfingen, Switzerland